Filmmaker's Journal | Production | Shorts | Contact | Buy DVD | Store | MPS Digital
Suzy: Laura Arias
---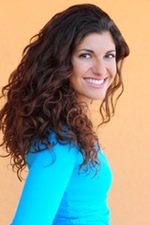 Laura is a Bilingual Talent who began her acting career in South Florida where she received extensive training in film and television and worked in numerous films and commercials. She has trained with renowned acting coaches and casting directors such as Terry Berland, Raymond Forchion, Teresa Rojas, and Mike Pointer including instruction from the Actor's Studio at Greenwich Studios and Prometeo Theatre School in Miami.

Arias' experience includes lead roles in commercials, industrials, short and feature length films including 9:04 AM and Second Act and in theatre productions including Twelve Angry Jurors directed by Morris Abraham. Arias is currently a member of The Actors' Network and can be found living, working, and training in Los Angeles, CA. Visit her IMDb profile for more information.

Laura comes aboard 9:04 AM in the role of Suzy, best friend of Justin and Phil. She is currently dating Monique.